Single move of an allocation to be done for defragmentation. More...
#include <vk_mem_alloc.h>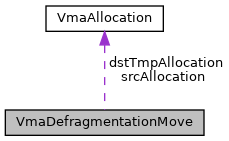 [legend]
◆ dstTmpAllocation
Temporary allocation pointing to destination memory that will replace srcAllocation.
Warning

Do not store this allocation in your data structures! It exists only temporarily, for the duration of the defragmentation pass, to be used for binding new buffer/image to the destination memory using e.g. vmaBindBufferMemory(). vmaEndDefragmentationPass() will destroy it and make srcAllocation point to this memory.
◆ operation
◆ srcAllocation
Allocation that should be moved.
---
The documentation for this struct was generated from the following file: